When choosing your Puerto Galera accommodation, whether it be a resort, hotel room or a house for rent, one needs to consider the following:
Location – All the 13 villages of Puerto Galera are tourist destinations and except for Baclayan and Villaflor, all have resorts and lodging houses.  Sabang and White Beach are the most popular and have the most number and types of accommodation.
Sabang – is popular among foreign tourists mainly because of its closeness to the dive sites and the numerous tourism establishments in the area owned and managed by foreigners.  There are also a lively nightlife in Sabang with many discos, bars and restaurants serving all kinds of cuisine.  Sabang beach is not recommended for swimming; one needs to walk to Small La Laguna or Big La Laguna to enjoy the sand and the sea.
White Beach – is a favorite among Filipino tourists.  It has an almost kilometer-long white sand beach and many Filipino managed resorts.  There are also numerous open-air bars which blast loud music during the night and serves "Mindoro sling" a popular local concoction.
Other Locations – There are other locations that offer a more private, more relaxing ambiance.  Sinandigan, Boquete Island, Aninuan, Talipanan, Poblacion, Tabinay and Dulangan (see map below) are areas where there are resorts that offer quality accommodation and services that cater to both the budget-conscious and the upscale tourists.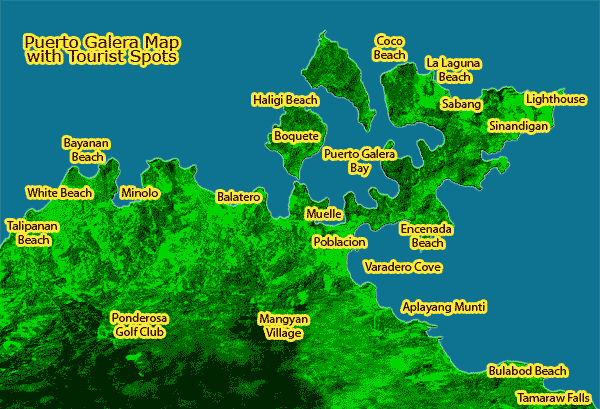 Season – The rates of accommodation differ according to the tourist season – low, normal, high and peak.  This is strikingly clear in White Beach where a room may cost 1000 per night during the low season and the same room will cost 2500 during the high season.
Weather – It is important that one inquire about the weather before booking an accommodation especially during the rainy season, July to November.  During this time, there are also less schedule of trips to Puerto Galera by the ferries.
Packages – The best way to enjoy Puerto Galera is to avail of a packaged vacation especially for first-time visitors.  This ensures a worry-free travel all the way to your resort in Puerto Galera, the best accommodation and services that suit your budget and activities and tours that will make your vacation truly memorable.
ACCOMMODATIONS IN WHITE BEACH
ACCOMMODATIONS IN SABANG VILLAGE
ACCOMMODATIONS IN OTHER LOCATIONS